Posted on September 26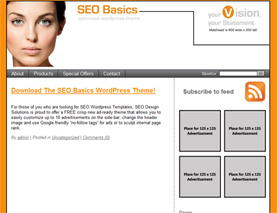 You may have seen our first Optimized WordPress Theme Small Business SEO and now joining the lineup is SEO Basics a FREE WordPress theme inspired by our very own site at SEO Design Solutions.
Details about the SEO Basics theme:
Orange, black, and gray combined to create a clean, great-looking theme. Supports rotating 125×125 sidebar ads, widgets, gravatars, and microformats. Valid XHTML and CSS. Based on Sandbox. Developed with SEO in mind. A premium-quality free theme.
Download the theme from WordPress at http://wordpress.org/extend/themes/seo-basics
Tags: free wordpress theme, wordpress theme for web hosing and seo // Category: Wordpress Goodies.
Sponsors